The Problem
Custom Solution needed to prevent crane operation disruptions
The overhead travelling crane of the ArcelorMittal Temper Mill in Spain removes metal sleeves weighing up to 500kg from steel coils prior to the tempering process. A disruption to the crane control can result in the crane damaging the steel coils, meaning an entire section of the coil needs to be reprocessed.
The encoder used to control the speed and direction of the crane is mounted at the top of the crane cantilever, where it exposed to moving objects. When objects collide with the encoder cables, they are often pulled from the device, resulting in reduced crane control. To rectify this, maintenance workers must climb the crane and physically reconnect the cables – which can take up to two hours.
The Solution
A customized solution using light-weight structures and metal 3D printing
The goal of the project was to create an encloser that would protect the encoder cables from collisions and prevent them from disconnecting from the device. Additionally, the design needed to allow the crane operator to see the LED light of the encoder (to ensure the device is functioning correctly) and allow easy access for cable maintenance. For this reason, a simple box encloser was not sufficient, and the decision was made to create a 3D printed light-weight structure that could secure both the cables and encoder.

By using metal 3D printing our engineers were able to design and produce a bespoke solution within a matter of days. The optimized design was manufactured as a single piece, without needing any additional machining or welding operations. The part was printed from our industrial laser powder bed fusion printer located at the customer site, reducing the time between printing and installation.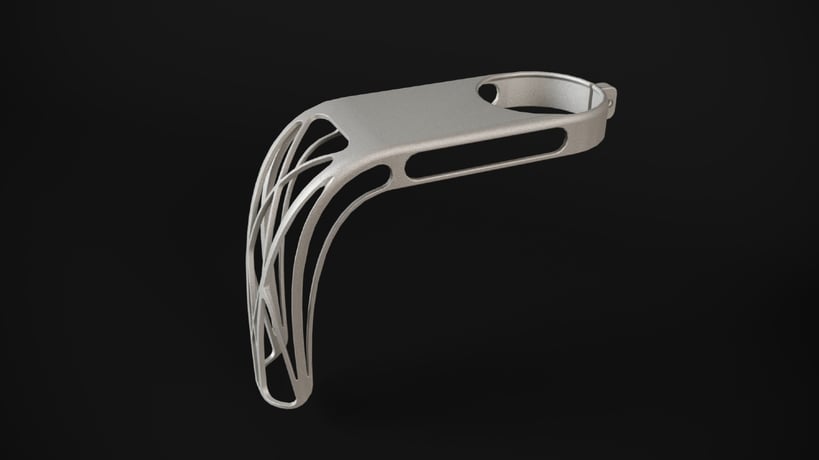 The Impact
Reduced production defects and maintenance spend
3D printing provides greater design freedoms for creating customized parts and it enables engineers to build one-off solutions cost competitively.

For ArcelorMittal, our engineers were able to deliver a solution that was both time efficient and optimized for its application. As a result, our customer could reduce their maintenance spend and mitigate the risk of defects to their steel coil production operations.
Resistant and functional design, as well as innovative. The enclosure provided protection to both the encoder and its power and communication cables. Thanks for the great work! "

Angel Luis Campa Gutierrez, Electrical Maintenance Manager
This is just one of many similar projects that we have worked on. If you have a unique problem and looking to produce a bespoke part – get in touch with us.