The Problem
No spare part replacement option for obsolete Coke plant pump
A major ArcelorMittal Coke Plant in Poland has a capacity to produce over 4.5m tonnes/year of coke – a critical raw material used in the production of steel products. This impressive production capacity is credited to its 12 coke-oven batteries that heat coal at high temperature to transform it to Coke. The gas emitted by the batteries is treated via the condensation plant, which cools and separates ammonia, benzol and tar from the gas. Within the condensation plant, the equipment is prone to chemical corrosion, and therefore it´s components require replacement over time.

The impeller of a condensate plant pump needed to be replaced, unfortunately the pump components were no longer available on the market. The only options available to the maintenance team were to either purchase a new pump (which would be expensive) or attempt to reproduce the damaged impeller.
The Solution
3D printing the part in a better material
Our onsite value engineer had discovered the issue and suggested to our customer to 3D print the part in 316L stainless steel. The material change would enable greater corrosion resistance and sufficient strength for its application.

Traditional manufacturing methods were considered; however, it would require the impeller blades to be individually machined and welded to the hub, at the risk of having future corrosion issues at the weld joints. Casting was not an option either, since the unit cost for producing such a small batch would be too high.
Ultimately, the decision was made to 3D print the part in 316L using our industrial laser powder bed fusion printers, which enabled the impeller to be printed, post-processed and installed within a few days. By having the printer located at the customer site, there was no time lost in transit between the production site and customer.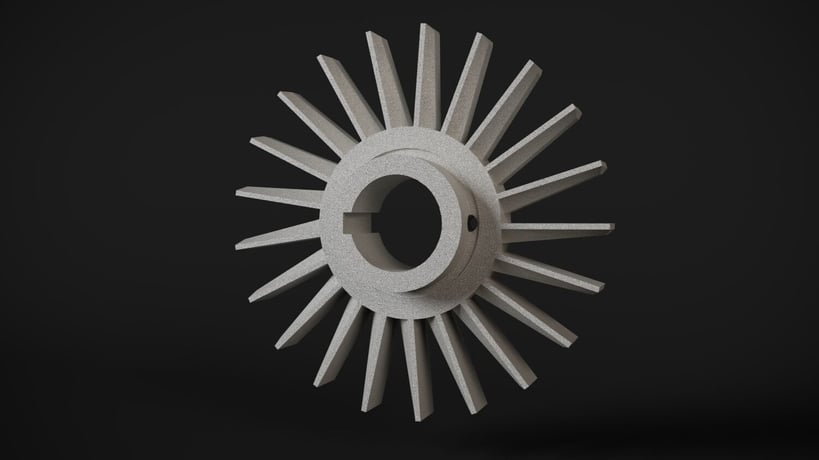 The Impact
Lower cost, faster lead-time and better reliability
Through metal 3D printing our customer was able to reproduce the pump impeller at a fraction of the cost and lead-time of buying a new pump.

Furthermore, as a result of the material change the operating lifetime of the part was significantly improved. Meaning not only does the part need to be replaced less frequently, but the risk of operating downtime was also reduced.
We know that finding replacements for obsolete parts is a common problem in heavy industry – there are installations that have been around for a long time, and with that comes old and difficult to find parts. By using 3D printing we can provide our customers with a viable solution to this problem, and a lot of times it results in a part that is even better than the original."

Bjorn Madsen, TheSteelPrinters CMO
Following on from the replacement of the condensate pump impeller, TheSteelPrinters have printed over 270 obsolete parts for the ArcelorMittal Coke Plant in Poland.